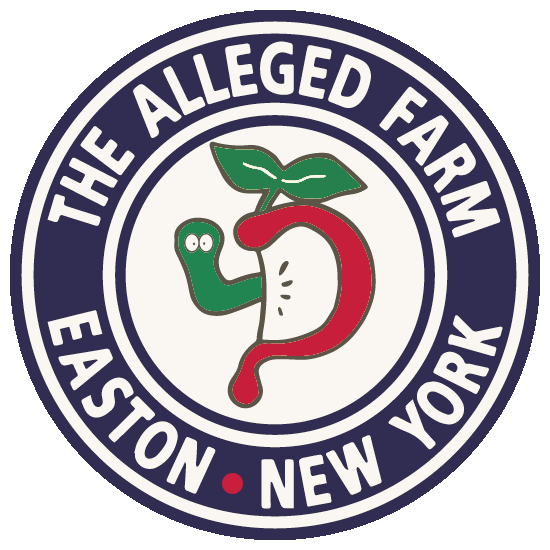 The Alleged Farm News – 26 September, 2013
This weeks share: Carrots, Eggplant, Escarole, Fennel, Garlic, Garlic Chive
 Flowers, Lettuce, Onions, Peppers, Newmex and Poblano Hot Peppers  Potatoes, Shallots, Squash, Tomatoes
I was a little peeved to find a small heron hunting frogs in our prime frog puddle. I would certainly never have given some dumb bird permission to hunt frogs in that puddle, and around here hunting without permission is considered nearly as bad a sin as putting yourself above others or wasting money. Plus there's the ethics of hunting frogs in a puddle. Where's the sport in that? In a puddle, for god's sake. It is like shooting fish in a… well, in a puddle. 
Ignoring the morality of this act for a moment, I can see why the heron was tempted to hunt frogs in that particular puddle. It is a relatively small puddle with a relatively high frog population. Even with the advantages its neck and beak offer, the heron must have to work pretty hard to get a meal under normal conditions, wading around in the reeds at the edges of ponds or working through the dense brush in drainage ditches on the off chance it will catch sight of a frog long enough to grab it. And here was a whole feast of frogs basking in a small puddle in the corner of our field.  It would take stern moral resolve to pass up on such an opportunity, resolve this small heron obviously lacked.
I admit my anger was tempered by the attractiveness of the miscreant. I recognize that is not a powerful moral principle (though it is probably more common in our criminal justice system than we would care to think). But it is hard to feel the full force of outrage while admiring the creature committing the crime. It was a good looking heron, and an unfamiliar one one. We have Great Blue herons who are here almost every day. There is a pair of them that makes the rounds of the neighborhood ponds, often flying so low from one to the next you think their wings will brush the ground. But the frog hunter was some other smaller heron. I did not get a good enough look to figure out what sort–and given my bird identifying skills it would have to have been a really good look. In fact, the heron would probably have to have landed next to me and used that long beak to point itself out in a bird guide.
Vegetable notes: As with the fennel greens, I am not really the person to ask about preparing the fennel bulb. I would be caught out if I tried to sneak the smallest piece into anything Liz ate so I don't have much experience preparing fennel. I do know that you can cook it, but it has a pleasantly crunchy texture when raw that would go nicely in a salad with some apple. At least, that is what I would guess.
Once again, the long red pepper is the sweet one, the long green one the Newmex. The dark green one is the Poblano (it is an Ancho when it is dried), and it may be a little hotter than the Newmex. Or not. There is a fair amount of variation. The only way to know for sure how hot yours is is to cut it up and smell it and maybe taste a tiny piece. 
Normally, people eat the garlic chive leaves. At some point, however, the plants flower, and we have to cut the flowers off or we will have garlic chives growing everywhere, and they are tough to eradicate. We could just throw the flowers away, but they actually taste just like the leaves so they are a pretty way to add a mildly garlicky flavor to a dish. You could scatter some on roasted potatoes or a tomato salad or grilled squash, or float them on gazpacho. 
The shallots are the small onions. Well,, actually they are shallots, though they look like small onions. And according to some people they taste just like onions too. It is true that they taste like onions, but not just like onions. They are excellent in salad dressing (let them marinate in the dressing for an hour or two before using it so that their flavor permeates it).
But the unidentied heron flew off as I approached, no doubt overcome by shame and guilt, caught red-beaked. Or maybe it had just had its fill of frogs. There certainly seemed to be a lot fewer of them the puddle right after the heron's visit.
But a good puddle won't stay frog-free for long. There are always more frogs ready to move in, no matter what caused the vacancy. There are a lot of frogs looking for somewhere to live, and a prime puddle like this one is hard to come by.  Someone will grab it the moment it is available, herons be damned. It's like a New York City apartment with river views.
That's just how it goes. It rains. The puddles form. Frogs move in. Herons come to dine on frogs. New frogs move in. Puddles dry up. Frogs and herons move on. This has been going on since long before I turned up and with some luck it will still be going on after I have moved on. It just happens that at this particular moment I hold title to the the field where a deep tire rut in the lane out to our far fields happens to hold rain water for weeks at a time, providing habitat for the local frogs.
I think of it as my field, my lane, my tire rut, and so I think of them as my frogs. But as the deed to the land says, we are only tenants here, another species making its home in an attractive spots and hoping to make a go of it despite the herons. 
Unlike the frogs, however, I can change the land in profound ways. There is no doubt the frogs affect the farm, and not just by amusing passing farmers. But there's a limit to what they can do. They don't drive bulldozers or wield chain saws or pour concrete or spray pesticides or divide the land into a hundred separate parcels and build a house on each.
Actually, even if the frogs in the puddle could build houses they would not be allowed to on that land. We placed a conservation easement on it so that nobody can build on it. It may not remain forever farmland–though that is the idea–but it will remain open and available for farming, which is good for farmers and frogs. By placing an easement on that land we have done something as permanent to it as if we had put up a mall, but something permanent to protect it.
That's is the beauty of conservation easements. They give citizens a real way to have a say in shaping the character of the place they live–a say that is otherwise hard to come by. For the most part we just let "the market" decide–as if it were some sort of impersonal, unavoidable force of history, and not for the most part a bunch of developers with short term goals and a powerful profit motive (financial profit, that is; there are many ways to profit from something, but we always just think of the money) that tends to obliterate any other concerns. Development is not necessarily bad and it is going to happen no matter what we think of it. But that does not mean that we have no say in the hows and wheres and whats–hows and wheres and whats that can change the lives of every species living on that land now and for generations to come. Conservation easements take the same forces that propel development and use them for a different purpose, a purpose that will serve my rural community for years to come.
We would not have been able to do that with the help of The Agricultural Stewardship Association, our local land trust. And ASA would not be able to help us and all the other people around here who have protected nearly 15,000 acres of land without the help of all its supporters, which includes you. I donate 1% of my gross revenue to ASA every year. Oddly, that is not enough to cover all their expenses so they, among other things, put on an art show every year, Landscapes for Landsake. It is a great exhibit in a lovely place, and 50% of the art sales go to help ASA with their mission. The opening is on Saturday , October 12th, from 2 to 6 pm. I hope you will come up and enjoy the landscape paintings and help ASA protect the landscape itself. You can get more information about ASA and the art show at Agstewardship.org.
And once you have seen how lovely it is here you will want to come back on Sunday, October 20th for our annual pie contest, open house and potato harvest to help the hungry. I will send out more information shortly, but I wanted to warn you now so you have plenty of time to work on your pie recipes.