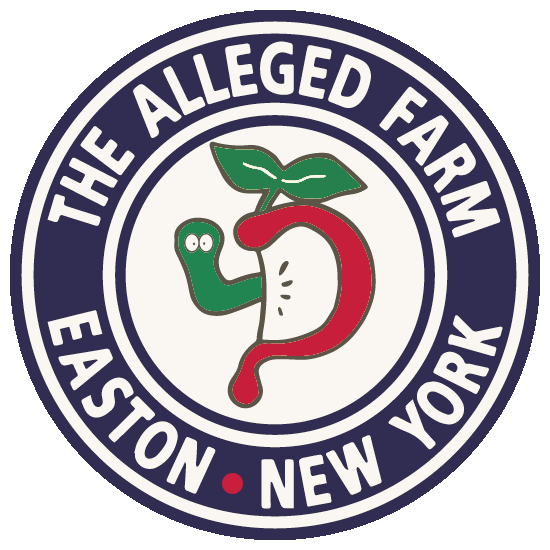 The Alleged Farm News – 7 November, 2013
This weeks share: Arugula, Bok Choi, Carrots, Celeriac, Garlic, Kale, Lettuce, Onions, Hot Pepper, Sage, Shallots, Turnips, Winter Squash
The end is nigh. 
No, I have not let my pessimism get the best of me. I don't mean The End. Of All things. If I understand physics correctly, that is not even possible, let alone nigh. And if it were, I seriously doubt I would be the one to have the job of spreading the word. Whoever was powerful enough to be in charge of The End would presumably also know not to enlist me to help organize the whole shindig. Perhaps to provide some soup and a loaf a bread, maybe a salad, though salad is tricky to eat while you are tackling a big job like ending everything. You really have to have your plate on a solid surface or you just end up chasing the leaves around with your fork and spilling them on your lap. Hardly the sort of thing you have time for with time about to end. So perhaps not salad. 
And really even the end I am talking about–the end of the season–is not an end. At least I hope it is not. One never knows for sure, but I don't think it is for me. It is just a rest period. I plan to farm next year, buoyed by the unsubstantiated belief that it cannot rain that much in June two years in a row. We already put in eight beds of garlic, planted cover crops, cleaned the seedling house, and the first 2014 seed catalog turned up yesterday. That barely puts a dent in the work required to produce another season's worth of produce, but it is a start.
Vegetable notes: After 20 weeks of vegetables you probably don't need a whole lot more of my insight. I suspect many of you have your own great ways to prepare turnips or bok choi or winter squash, recipes you may have possessed for generations or come up with when faced with the weekly influx of produce (if you do have a great recipe for any of our crops I would love to have it so I can add it to our recipe collection (which we will get back on the website soon)).
There are, however, two crops in this last share that deserve a little discussion. The first is the celeriac, the knobbly, dense greenish root. You can cook it (and by it I mean the white flesh you will reveal when you trim away the skin and roots). I sometimes make a creamy celeriac  and apple soup (even better with a dash of calvados added shortly before serving), and you can cut it into chunks and steam or roast it. But I prefer if raw, julienned and tossed with sliced shallot, mustard, mayonnaise, lemon juice and a pinch of paprika (you could add some julienned carrot or turnip too).
And then there are the hot peppers, which require not so much a discussion as a warning: they are hot. Well, obviously they are hot. They are hot peppers. The warning concerns just how hot they are: extremely. The yellow ones, Lemon Drops, can be ten times as hot as a Jalapeno, and the orange ones, Fatalis, can be twice as hot as that. I would not really recommend snacking on them. I would, however, recommend using them–cautiously. They taste good, and used in moderation they add excellent spiciness to a dish. Or you could make a jar of hot sauce (puree the peppers with a small onion and some sort of tropical fruit such as a mango, and cook down the puree with vinegar, brown sugar, salt and ground spices, such as cinnamon, allspice and clove, until it has thickened to a jammy consistency, then pack it in a clean jar with a good lid). It is a great way to make a couple of hot peppers last over the course of many meals. I little of that hot sauce in guacamole or chili is excellent.
I would like to think some of that work will result not just in another season of produce, but in a better season of produce. I don't feel like we have much to apologize for, though I do wish at least one of our four seedings of snap peas had worked (three mysteriously failed to germinate well, and the deer ate the one that came up). But we could certainly do better. We could always do better. Having a real cooler right from the start of the season will make a difference. It will be a huge help if we can get hay off our fields for mulch.  This year's experience has suggested some adjustments in timing and spacing, some changes in variety selection, some better ways to deploy deer fencing that should improve yield and quality. And then there are the potential additions to our infrastructure and arsenal of equipment. For instance, I would really like to have a better potato hiller–and the weather conditions that would allow me to use it. A round bale unroller would speed up mulching–assuming the weather conditions allow us to produce the mulch. But what would make the greatest difference is having more ground under protective structures, which would afford us greater leeway to ignore the sorts of weather conditions that make hilling and haying impossible.
We already have about a quarter of an acre of growing space in our four field houses, on which we produced all but one of the plantings of lettuce, nearly all the endives, most of the basil, the fennel (leaf and bulb), the first onions, beets, scallions, kohlrabi and turnips, all of the arugula and chinese cabbage, much of the bok choi, cilantro and dill, the super hot chiles and lots of tomatoes. Every share this season included at least one thing grown in a field house, from the arugula, beet greens, dill, escarole, kohlrabi, lettuce, radishes and scallions the first week to the lettuce, hot peppers and arugula in this last share. With more land under cover we would have space to grow other crops that would appreciate being further out of harm's way: peas, an extra early planting of zucchini, a late crop of snap beans, eggplants, melons. As for what that cover would look like, it could be anything from a simple hoop house made of PVC pipe and rope to another field house to a Haygrove Tunnel, which consists of a series of connected arches that can adapt to the contours of the land and cover anywhere from a third of an acre to as many acres as you can afford. Which in my case might be a third of an acre. If that. Getting one would be a serious investment in the future of the farm.
Given that I show every sign of continuing to farm, that might make sense, but the future of the farm does not just depend on me. It also depends on my members. And that is the other way in which I trust this is not the end. You might not get any more vegetables from me for a while (though you will have the opportunity to order some for delivery the week before Thanksgiving), but I hope you will want to get them again next season. There's not much reason for me to invest in the farm and work to grow food if nobody else eats it. I am happy to have fresh produce–I took up farming largely so I would have a steady supply–but I am not quite ready yet just to tend my own garden. I like being your farmer, and I hope you like what you get from the farm enough to want more of it and I can continue to be your farmer.
It would be nice to think that the produce itself and the direct connection to its source is reason enough to return. But as an added inducement and in gratitude for your support, I am offering a returning member discount. If you sign up for a 2014 CSA share in the next month it will cost only $435. You should be able to renew your membership through the website, Theallegedfarm.com, but if that does not work you can also just send me an email and I will do it for you.
No matter what you choose to do next year, even if you decide to become a carnivore or just give up eating entirely, thank you for being a member of our CSA this season. Your support did not just keep the farm going for another year. It gave us a real sense of purpose. Growing food is good work, but it is even better when you know who you are growing it for. 
We will have some storage crops and, weather permitting, greens available for sale after the season. Once I have assessed what we have left I will send out a price list. We will deliver the orders on Monday, November 25th so that you can have the produce in time for Thanksgiving. Orders of $50-99 will receive a 5% discount, and orders of $100 or more will receive a 10% discount.